About Us
MEET OUR DESIGNER
Elise Design was founded in 2004 by designer Thu Nguyen in Sydney, Australia. The label began at Sydney's Glebe and Bondi markets. After a few months Thu opened her first shop in Leichhardt. Elise Boutique is now situated in Newtown, Sydney with an extensive online shopping service delivering internationally.
The inspiration for Elise garments comes from Thu's love of vintage fashion. Garments are carefully designed in the classic styles of the 1940s, 50s & 60s, and are well-known for their beautiful print and embroidery details.
Thu's desire to build the label comes not only from her passion for fashion but also from a wish to have a legacy for her daughter, after whom the brand is named. She puts something of herself into every design, something she hopes people appreciate when they wear the garment.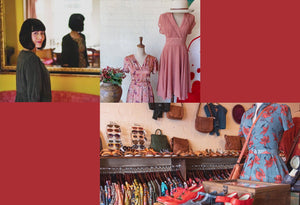 Meet Our Sewers
Unique, rare, ethical products.
Elise Design garments are carefully handmade in our ethical workshop in Ho Chi Minh City, Vietnam. Through our workshop we employ single mums, providing the financial means needed to support their children's education. We take a lot of pride in our workshop environment and our ethical practices as good employers and responsible members of the fashion industry.
EMPLOYING BASED ON NEED
Our workshop team is a small group of women (2 pattern makers, 5 sewers and 1 production manager). As a mother of three, Thu understands how hard it is being a mum, particularly a single one. With this in mind, Elise Design often welcomes new team members based on personal need. Thu will first look into a new employee's individual situation to assess requirements. They will then receive plenty of training from our friendly and experienced team members. This provides employees with the high level of skill required to work at our workshop, whilst also empowering them to begin their own business in the future if they should so choose.

FAIR TREATMENT
We foster a welcoming environment where team members support each other with care and respect. Whilst most Asian manufacturers pay workers based on output, we pay our team members hourly wages. This ensures that staff have fair and reliable income, that the team culture is collaborative, and that products are made to a high quality. Workshop hours are 8.30am - 5pm with a 1 hour lunch break/nap time. We offer flexibility in arrangements to allow staff to have time with their kids. Unlike most other Vietnamese organisations, our workshop team does not work weekends. Wages are fair, with personal and sick leave provided. A full month of bonus wages is provided, as well as at least 2 weeks off for Tet (Vietnamese New Year). This allows team members to go back to their hometown to celebrate New Year with their families. Private healthcare is provided by Elise as Vietnam does not provide a free public healthcare service.
BEAUTIFUL WORK ENVIRONMENT
Our workshop is located in a lovely, quiet alleyway. It's a beautiful house (not a factory!) with a balcony & rooftop garden for our team to enjoy. These spaces also provide refuge for locally rescued animals (we currently have a cat, tortoise, lizard and lots of birds!). Thu's brother & sister-in-law take care of the workshop team and the rescued animals.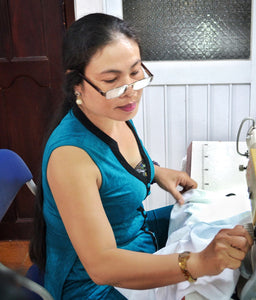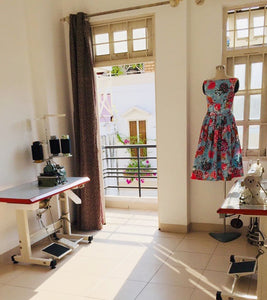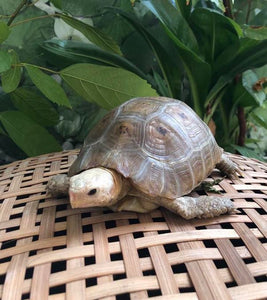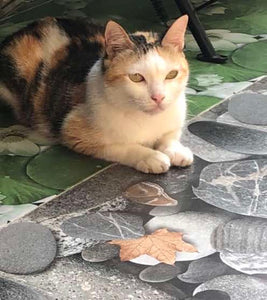 SUSTAINABLE MATERIALS
We recognise the need for sustainable practice in the fashion industry. Most of our garments are sewn from cut offs (remainders from large rolls of fabric), reducing waste and transportation demands. We recycle our own cut offs when possible. During the NSW bushfire, leftover fabric was used to make pouches for recovering wildlife. We also donate cut offs to be repurposed as quilts and various craft items.
We use compostable packaging made by Aussie owned business "Heaps Good".